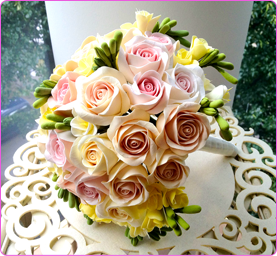 It is the time you have wasted for your rose that makes your rose so important.
The Little Prince, by Antione de Saint-Exupery
The unique bouquet, headpieces, corsage, favors or a special floral arrengemet will be the best present to your friends and family. Your Wedding day, engagement or birthday are very special for you and your loved ones. Handmade Clay bouquet as well as different present will be a lifelong memory of your special occasion. Every flower is made petal by petal to your specification. You can choose the different flowers all year around. Your emotions and wishes will always be in this special present.
Make your order quickly and simply!

You can order any kind of floral arrangements, bouquets or headpieces for your special occasion. To make an order choose the section make an order.





It is also possible to call directly to
+37126322960 to pass your order

or using our e-mail:

Our contacts

Phone:

+371 26322960 ( Europe)

+1 951 219 6424 ( USA)

Email:
artfloraldesigns@gmail.com

Facebook: